Once described as "the most promising R&B artist we have had since we started the company 60 years ago" by the founder of Atlantic Records, Trey Songz is undisputedly one of the most prolific and recognisable artists to emerge within the 21st century.
With feats under his belt like selling out the iconic Madison Square Garden venue in New York, duetting with Aretha Franklin, touring with Jay-Z and being nominated for several Grammy's, Trey is as big a success on paper as he is culturally.
"Say Aah" is still a fan-favourite birthday track and several children born in the last decade and beyond can have their conception traced to a romantic night soundtracked by the sounds of the Virginia-born R&B crooner.
15 years since his debut and eight albums in, Trey is back with a new project called Back
 and Trey is reflective of his new realities on this one.
With tracks like "I Know A Love" which narrate Trey's new journey into fatherhood and "2020 Riots: How Many Times" which is a raw depiction of America's crude racist zeitgeist, Trey is calling for fans to see him in a new light – perhaps in the same way that 2020 has done for everything else we hold close.
I met Trey (virtually) at his home in Los Angeles, California – worlds away from his humble beginnings in Petersburg, Virginia or his durations spent in Atlanta and Miami which he openly shared with fans during his intimate Ustreams back in the early 2010s.
Off the back of his recent COVID-19 diagnosis which he shared on Instagram in an urgent message in which he asked fans to take the pandemic seriously, Trey still attended the interview and appeared warm and engaged throughout.
"I'm alright. I'm short of breath a little bit sometimes but other than that, I'm good" he said as he walked his laptop to a different location in his home in order to get more comfortable.
Fans rallied around to show their support when Trey announced the arrival of his son Noah via Instagram. A spitting image of his Dad and a boy who will one day become a man in America, Trey described his experience of fatherhood and how it has shaped him.
"Fatherhood is amazing. Being able to watch a little version of yourself grow is surreal. You're proud at the smallest of things. Ultimately, it just makes me want to be a better person for him and be the best example I can be for him. It's a love that I've never known before. You think you know love, you think you know passion, you think you know scared, you think you know all of that and then you have a child and it's like every emotion is reborn."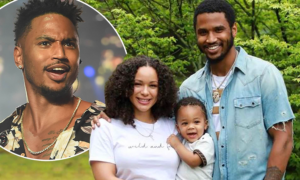 Trey adds, "As far as artistry is concerned, I think having a son has given me a different realisation of how impactful my voice is outside of music, with protesting, speaking out against police brutality and encouraging my people to understand and be knowledgeable about issues that we face."
"I've often used my voice for things, but it's different now that I have a son. I don't want him to go through some of the things that I've been through, or that so many other black people go through. I want to use my voice to stop as much pain coming his way as possible."
"You'll see it on the album. Even with a song like "How Many Times" or "I Know a Love", those songs are very much inspired by the need to protect him."

Here in the UK, we've been traumatised and left mourning by the horrific images we've seen of innocent black men and women being killed in their homes and on the streets. With racism being an ever-present discussion on all corners of the globe, I ask Trey if racism in America has gotten worse or if it is just being documented more.
"I think we have a leader in America that has allowed tensions to be ignited. I think we have a leader that thrives on hate, so with that being said, I think racism is just as present as it has ever been, but now we have cameras. You also have a younger generation of white people that don't want to be racist, and the children of some of these racist parents listen to hip-hop and black artists. So how can you tell somebody to hate people that (they) adore, that (they) admire? I think in so many ways it's worse and in so many ways it's better as well."
Trey talked about the fatal shooting of teenager Michael Brown in 2014 by a police officer in Ferguson, Missouri. No charges were brought against the officer and the heart of black America was broken again for what seemed like the infinite time.
"If you think back to Mike Brown, it's only now we're starting to see bodycam footage. We're finally starting to see police actually getting charged, even though there isn't any sense of regularity. When you look at the numbers, it's very minuscule in comparison to the lives that have been taken."
The Grammy-nominated artist is hopeful though that the future may be brighter – "I think this year, the pressure has been applied in such a way that change is actually foreseeable."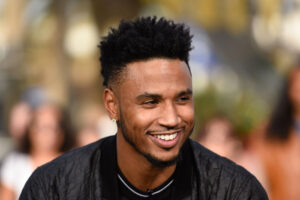 Away from his Black Lives Matter weekends or his exposés of the everyday racists he encounters via Instagram, Trey has always been a voice for the voiceless and a hero in his local community.
His short-lived BET reality series Trey Songz: My Moment which aired in 2010 showcased his philanthropic efforts across his hometown of Petersburg, Virginia.
His Angels with a Heart initiative encouraged his fans to get involved and every November, Trey's Angels were encouraged to give back to their local communities.
Hailing from a small town himself and witnessing poverty, Trey detailed the issues he has seen from a ground-level perspective.
"You look at neighbourhoods where children are decelerating in schools, graduating class numbers are low but prison rates are high, the arrest rates are high. The prison budgets are high, the school budget is low and the medical budget is low."
"I think if the focus was to enlighten and uplift children in the areas where they are most abandoned, I think that's the most important thing ever. As cliché as it sounds, I believe the children are the future. Teach them well and let them lead the way."
With tracks like "I Invented Sex", "Neighbours Know My Name", "Panty Droppa" and the infamous "Inside Pt. 2" which allegedly features authentic audio from a real sexual encounter, Trey has found it impossible to be disassociated with the sex symbol label since he famously cut off his braids in 2008.

CC: Sourced.