Tory Lanez has been charged with shooting Megan Thee Stallion.
The rapper – real name Daystar Peterson – is accused of shooting Megan several times at her feet and wounding her.
Tory Lanez, who's 28, is also charged with carrying a loaded, unregistered firearm in a vehicle.  If convicted the Canadian artist faces up to 23 years in prison. He's denied the charges – but only in music he's released since the incident.  Court hearings will begin on October 13 at the Foltz Criminal Justice Centre in Los Angeles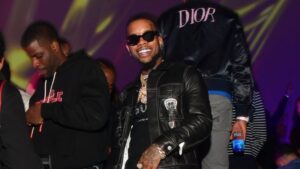 At first Megan, whose real name is Megan Jovon Ruth Pete, claimed she was cut by glass, but she later posted on Instagram that she had been shot by Tory.
The 24-year-old also claimed she was scared police would start shooting if she said a gun was involved.
"I didn't tell the police nothing, because I didn't want us to get in no more trouble than we was about to get in."
Since the incident, Megan accused Tory's team of spreading misinformation online.
"Stop acting like black women is aggressive when all they be doing is speaking the… facts, and you… can't handle it," she said.
She spoke about being called a "snitch" online – and also disputed claims that she hit Tory Lanez before the shooting.