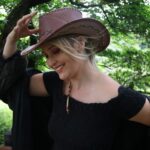 Rio Notra Segal is young talented actress, singer and dancer who is constantly trying to improve her craft. Born into a dynamic family, mother an American and father a South African from Johannesburg. Rio was raised in Durban, Kwazulu-Natal. At the early age of three Rio discovered her passion for art, with the support of her family started attending acting classes, which led to her performing in productions.
For fifteen years, Rio has garnered wealth of experience in the entertainment industry from her direct involvement in stage plays and media projects. She says, "performing on stages is where I often found myself, I take it is my second home and that's how committed I am".  Some of the projects Rio has been involved are The Young Performers project of Legally Blonde, Gail Smith School of Dance shows, and Dancers Love Dogs. 
At the age of eighteen Rio took a gap in her acting career to explore other areas  in life. She left the shores of Africa and moved to the United States, where she spent two good years. While in the States, Rio took the role of an outdoor instructor with Camp HorizonsOutdoor learning center and Camp Chipinaw's summer camps. She guided groups of tourists and young talents as well as locals through different outdoor terrains in various activities like Caving, Back packing and Rock climbing. She also taught others how to make fires and live in the wilderness. Even though Rio lived a different lifestyle while in the United States completely different from her media career, She did not relent in grabbing any opportunity that comes her way and by staying loyal to the creative side of her life, she was able to offer Singing and Special Effect Make-up (SFX ) lessons at summer camps. 
Since returning to South Africa, Rio has been involved in numerous productions such as commercials, films and  passion projects, as well as Richard Green's Tokoloshe and King Shaft's directed feature film The Unexpected produced by A.M Visual Productions. Rio in recent years has grown closer to screen, she is gradually becoming a force to reckon with in the entertainment industry. Her inherent passion about her craft and the determination to carve out a niche for herself serves as her biggest motivation. When asked how she intend to grow her career in the industry, she says, "I want the whole world to know who I am, my creative talent and passion for the industry. I have such much to bring to the table. I'm open to working with anyone or any media production company out there on projects. I have that strong drive in me and I believe I have what it takes to excel, so I'm ready to take it to the next level!" 
As a confirmation to her burning desire to expanding her craft and creativity, Rio is currently studying to become a Cinematographer and Colourist for the entertainment industry, while still pursuing  an acting career.
To connect with Rio, follow her handles on social media. Instagram @iamadarkerdreamer Email rionotra@gmail.com