While it's palpable that the human race could be at brink of collapsing, or better still, wiped out of the surface of the earth, if drastic measures are not urgently implemented to contain the wide spread of deadly virus particularly, the Coronavirus (COVID-19). Given the number infested cases, as well as, the number of deaths that is continuously piling up in an unprecedented manner, one could easily conclude that, Coronavirus has no atom of regards for any race, status, skin colour, and even too blind to notice whether one is wealthy or poor. Yet, some unscrupulous football fans have chosen to indulge in the demeaning act of racism chants, a discrimination against professional black football players.
Moussa Marega, an FC Porto and Malian forward, became a victim of racial abuse, which then prompted him walking off pitch during the game between F.C Porto and Vitoria de Guimaraes on  the 16th of February 2020. The incident happened at the 69th minute of play time, and immediately after he (Moussa) got the second goal for Porto. The goal later proved to be decisive, thus sealed a much needed three point for his club. Porto currently seats second on Liga Portugal table, behind Benfica.
Racism, in present times, is undoubtedly a major concern in professional sports, and especially in football. Black players over the years have repeatedly suffered racism in its various forms. Most prevalent is the racial chants by football fans directed at black players. Despite many interventions from concerned organisations, including FIFA, UEFA and Leagues' FA, among many others, have seen little or no significant results. This is further attested by Romelu Lukaku, of Inter Milan and Belgium striker, who insists that, "we are going backwards" on the issue of racism. Black players have continued to face racial abuse on and off the pitch in many countries around the world.
According to Vincent Company, former Manchester City captain, a major catalyst to racial abuse in football is 'lack of diversity in organisations", which then decimate efforts in tackling racism. The incidents revolving around racism no doubt is glaring. Black football players have had to endure racism on and off pitch. Still, and interestingly, racism against black football players has escalated beyond stadium chants. Perhaps more than ever before, racism has taken a new sharp since  the rise of new media (social media in particular). It is even more concerning as players now have to endure racist attacks off pitch, which are constantly directed to black players through their various social media platforms like twitter, instagram and facebooks.
An obvious case that is telling to the increase use of social media for racial abuse was Troy Deeny, who having helped Watford progressed to their first FA Cup since 1984, received numerous messages and post on his Instagram page in 2019.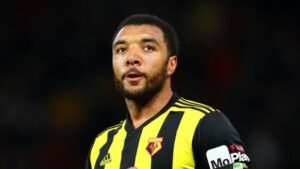 We have compiled a list of notable black players that have suffered racial abuse, mainly for playing the game they love, the club they signed for, and to provide for their families in their various leagues across Europe. The likes of Antonio Rudiger, Troy Deeney, Raheem Sterling, Virgil van Dijk, Paul Pogba, Eniola Aluko, Tyrone Mings, Roberto Carlos, Samuel Eto, Romelu Lukaku, Tammy Abraham. Franck Kessie, Dalbert Henrique, Ronaldo Vieira, Kalidou Koulibaly, Mario Balotelli, Stephane M'bia, Moise Kean, Blaise Matuidi, Alex Sandro, Christopher Samba, Sulley Muntari, Michy Batshuayi, John Mikel Obi,  and of course, Moussa Marega, among many others. But one thing worth noting is that most of these reported racial incidents, often times, are swept under the carpets. A typical example was the case of Michy Batshuayi, who saw the investigations into his racist claim in Italy while on Loan in Borussia Dortmund from Chelsea dropped by UEFA for no obvious reason.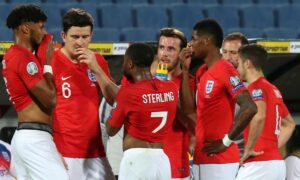 Again, the world is plunged into chaos. Many are living in fear, others quarantined, while some countries are on the verge of being isolated from rest of countries, as they seek urgent intervention, particularly China. This has affected not just world's economy, but has also resulted in a fearful future. Hence, those who felt it is their obligation to abuse others because of the colour of their skin, should channel such energy to solving global issues that are of greater concern, including climate change, war, crime, and the outbreak of deadly viruses.
Racism, as often said, "is a shelter for the hopeless and ignorant". On second thought, who would have thought that racism would still remain a strong force to combat, especially in football? Besides, should it not be seen as an outdated pandemic? Notwithstanding, the interest of everyone, regardless of skin colour is to allow football remain a game of entertainment loved by many of its fans around the world. It should not be seen as a platform to constitute racial discriminatory nuisance.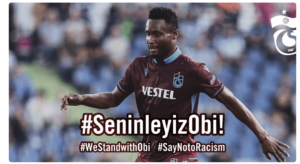 Be it as it may, if nothing is done to tackle racism, in every aspects of it, be it on and off pitch, then the famous slogan, first coined by Barney Pityana, and propagated by the Black Consciousness Movement, "Black man, you are on your own", perhaps could serve as a reminder that, every black player out there are completely alone on the fight against racism .
NO ROOM FOR RACISM!