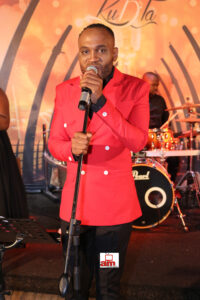 This years Roses & Ribbons event was nothing but a success. An event packed by your TV Divas and Kings, rocking finest of  linens and cottons. Held at the beautiful KuD'ta Lounge, Wilson's Wharf, Durban South Africa, guests couldn't have had a better location for event of this magnitude. As always, Syanda vision and mission is to bring couples, especially music and art lovers to come together and enjoy wonderful live band performances. The show also provided platforms for people to network and discuss future plans. This year's event, to sound the alarm, was extraordinary. The first of its kind, particularly with the introduction of fashion exhibition by creatives brands such as Black Pepper Design, etc…. is a profound way of promoting local brands in the industry.  The wow moment came at a time when Syanda Mwandla and Friends trilled the audience with melodious and soul uplifting live band performance.
The crowd could not contain their joy as they stood up on the feet and sang along with the live band performance. The turn out of guests was overwhelming more than expected, with one purpose in mind, to celebrate the month of love.
Roses & Ribbons 2nd edition event was a success and next year according to the organiser, Syanda "the show will be even more bigger and better", he said. What a wonderful way to end the month of love in 2019.
Syanda, took time out to thank the member of the Media, especially the CEO and Crew member of AM VISUAL PRODUCTIONS, the likes of Austin, Oliver and the beautiful Presenter Yolanda.
We look forward to the 3rd edition of Roses & Ribbons! Until then, we hope you enjoyed this yours activity and red carpet interview moments. Packaged by AM VISUAL PRODUCTIONS for AMTV AFRICA.
Click on this link https://youtu.be/rXmz1wXj9h0  to watch  full video cut and leave your comment below.
See photo cuts below
Follow us on social media @amtv_africa on Instagram and Twitter. Subscribe our YouTube Channel AMTV Africa.